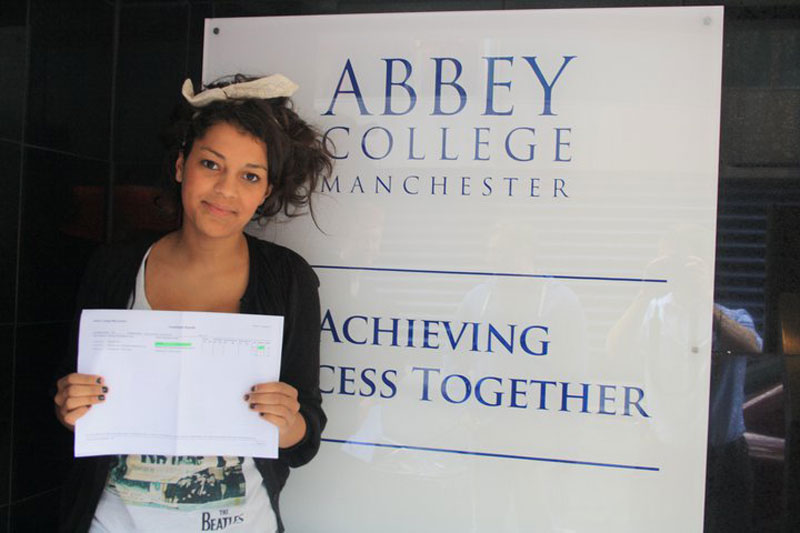 A Level Clearing Tips from Abbey College Manchester
It's August the 15th, 2013, A Level Results Day, and your results aren't quite as good as you thought they would be. What are you going to do?
The first thing is not to panic. All is not lost. There are still plenty of options open to you, and you might be able to find yourself another course at university through Clearing.
Here is our guide to everything you need to know about Clearing.
What is it?
Clearing is basically a way for universities to fill up any spare places they have for their courses. It is also a way for students who haven't quite made their expected grades to get onto another course. Universities don't want empty seats, and students don't want to be left with nowhere to go. It's a win – win situation for everyone.
How do I find out if I am eligible for Clearing?
Clearing runs from July to September every year. Log in to UCAS Track once you have received your results and it will tell you.
If you know that you don't have any firm offers, you are eligible for Clearing already, so you can get a head start over everyone else by preparing for it now.
Is Clearing for me?
If you didn't do quite as well in your A Levels as you thought you might, your grades didn't meet the requirements of your offer, and you still want to go to university, then yes, Clearing is the way to go. You may have to choose a different university, and maybe even a slightly different course, but if you're prepared to be flexible then all of that revision and hard work might not have been in vain.
Our Top Clearing Tips
• Be prepared. If you're worried that you might not have done as well as you'd been predicted, now is the time to do a little homework on alternative courses and universities. A Level Results Day is stressful enough without you being completely unprepared for all eventualities. But, if you've done your research ahead of time it'll be a lot less stressful, you won't panic because you know there will be spaces out there, and you'll be miles ahead of your fellow students.
• Buy The Daily Telegraph on A Level Results Day morning. They have the official list of all the available Clearing vacancies. The list is constantly evolving so it won't be 100% accurate, but it will give you a great place to start, fill you with confidence that there are spaces out there, and again, give you a head start. You should also check the UCAS website as they update the Clearing spaces as and when they come in.
• Have all of your details to hand. You will need them. That means your UCAS Track Login Details, university phone numbers and contact details, your own contact details and Clearing number, and your A Level results. And take a pad and pens with you in the morning as well. You will need to write down a lot of information throughout the day.
• Call the universities and speak to them yourself. Do not get anyone else to do it for you. The universities will be more impressed if they speak to you in person, and some universities do not offer places unless they are speaking to the student themselves.
• Charge your mobile phone. You may be making a lot of telephone calls, or visiting university websites throughout the day. The last thing you need is your battery running out. To be even safer, take your phone charger with you.
• Even if you haven't met your requirements, call your Firm offer university. They may still let you in. It's not unusual to get onto your first choice course with slightly lower A Level grades. If that doesn't work, call your Insurance offer for the same reason.
• You can call and deal with as many universities as you want. If you receive verbal offers from them, get them to send you the offers in writing, this saves any confusion further on down the line and will make you feel better inside.
• You don't have to accept the first offer you are given. Most universities will give you between 12 and 48 hours to confirm your choice. Likewise, don't spend too long thinking your offers over, they might not be there when you finally come to a decision.
• Even though it may feel like it, you are not alone in all of this. Speak to people for advice if you need to. Your parents, teachers, and university advisors will all help you. Listen to their advice and think very carefully about it.
What happens then?
You've spoken to some universities, and one of them has made you an offer you really like. You now need to enter your Clearing choice in UCAS Track. Here's how you do it:
• Log in to UCAS track.
• Click on Add Clearing choice and enter your details and the details the university has given you. You have now formally accepted the offer.
• Your university should now accept the offer and it will show up as an acceptance on UCAS Track.
• The university will send you a confirmation letter.
You are only allowed to add one Clearing choice at a time. Should the university not confirm your place, you will be able to enter another choice.
If you get stuck, there is a very helpful and easy to use How To Guide here on the UCAS website. There's even a practise form for you to try.
Think about the offer given to you, and only accept it if you really want it. Don't just accept it because you think you have to. There are lots of people who find themselves without a course or university after Clearing. Once again, this is not the end of the world. There are still lots of options open to you. You could take a gap and go travelling or get some very valuable work experience. You might like to think about courses outside of higher education if you think university is not the way you want to go.
Or you might like to think about resits. Plenty of students do them, either to bump up their existing grades, or to start on completely different A Level courses. At Abbey College Manchester we offer a full range of A Level courses ranging from intensive one year retakes, to 18 month and full two year A Level courses.