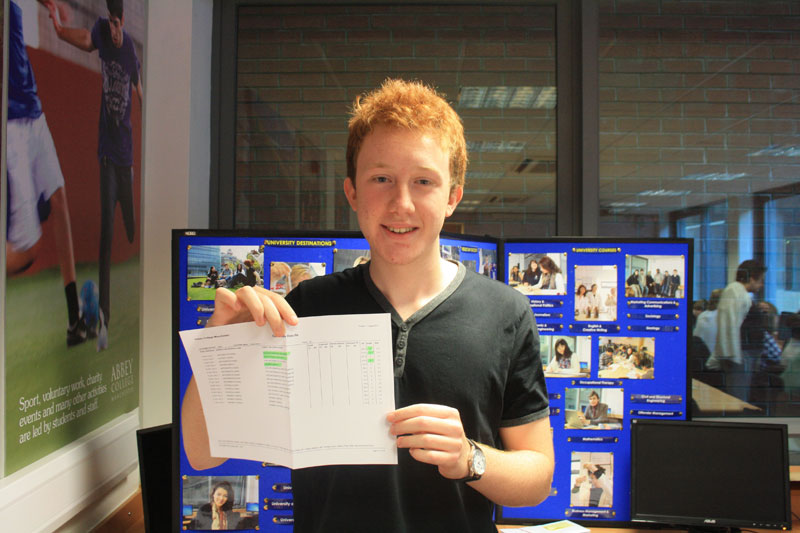 A Level Results Day is a stressful time so it pays to be prepared
The 15th of August 2013 is a date filling thousands of young people with dread. A Level Results Day is nearly upon us. And no matter how well you think you've done, how much you revised, or how brilliant you are, you are bound to be nervous. There will joy, there will be tears, there will be drama. You are going to experience a whole slew of emotions during the day. Most likely you will be unable to sit still for a second. You might want to scream, or cry or just pretend it's not actually happening. But through it all it is important not to panic. What you're feeling is normal and you are not the only one.
It's vital to be prepared on A Level Results Day. Things might go swimmingly, you might make your grades, meet you requirements and your university might confirm your offer straight away. But, sadly, there's always the chance, however remote, that things may go awry, and it's better to be ready.
Some things to remember:
• Charge your mobile phone. Whatever happens you're going to be making a few phone calls. It's not a bad idea to take your charger with you too. Just to be on the safe side.
• Bring you UCAS Track Login details. You will need them no matter what.
• Bring your university contact details, both your Firm and Insurance choices. If you need to contact then during the day, it will be better to have them to hand.
• Buy a copy of The Daily Telegraph. The Daily Telegraph print the official list of all the Clearing spaces available for the year. The list changes so you will want to check out the UCAS website as the day goes on, but if you need to go through Clearing, it will be a place to start and you will feel better seeing the range of courses that are still available out there.
• Take a notepad and pen with you. You might need to take down a few sets of names, numbers and offers.
• Take a bottle of water with you. Regardless of the outcome, A Level Results Day is a draining experience. You want to stay hydrated.
A Level results day at Abbey College Manchester
Alright, we all packed and ready to go. Let's see what can happen to you on A Level Results Day.
1. Your make your required grades for your Firm Offer and you are accepted onto your first choice university course.
Excellent news. Congratulations. All of your hard work, revision, dedication and sacrifice has paid off. You should feel really rather good about yourself right now. Pat yourself on the back and call your loved ones and tell them how tremendous you are. Then go to the UCAS website and login to Track. Your university should have received your results so your unconditional offer should be showing. There's no need to call them to confirm your place, they will send you written confirmation by post.
2. You're A Level grades are much better than you thought they'd be and you've exceeded the requirements for your Firm Offer.
Amazing. There are two things you could do here. Firstly you could just do what we've recommended above. Take your results and go to your first choice university. OR you could apply for another course at a better university. This is known as Adjustment. You can sign up for Adjustment through UCAS Track, and you will have five days to get yourself another course at another university. You have to do all the work on this, no one is going to help you. There is an excellent article on how Adjustment works and what you need to do here.
3. You didn't do as well as you'd hoped and you're a Level grades are not quite as good as you needed them to be to meet the requirement of your Firm Offer.
Firstly, do not panic. It's alright. It's not as bad as you first think. There is still a good chance you will be accepted. Firstly, login to UCAS Track, check your offer, and if it says "Unconditional" next to it, you've done it. You've been accepted.
If it says "Conditional" next to your offer, the university hasn't made a decision yet. Get on the phone and see if they will take you anyway. If they do offer you a place, ask for written confirmation, it will put your mind at ease.
If, after speaking to you, the university does not offer you a place, it's time to try something else.
4. Your A Level grades meet the requirements for your Insurance Offer.
You login to UCAS Track and next to your Insurance offer it says "Unconditional". Congratulations, you are going to university. All you need to do now is go home and wait for them to write to you.
5. You don't make your Insurance Offer.
Login to UCAS Track and check your Insurance offer. The university still might accept you with lower grades. If it says "Conditional" next to your offer, phone them to check. If they accept you, get written confirmation. If they don't, it's time to enter Clearing.
6. Clearing.
So you didn't make you Firm Offer and Insurance Offer, you are now eligible for Clearing. You can now approach any university that has available spaces. This is where your copy of the Daily Telegraph will come in handy. Have a look through the available places and see if there are any that interest you. Then ring up the university, explain your situation, give them your details and see if they'll give you a place.
We've already covered what happens when you have to go to Clearing in our Blog here.
7. Resits
Still haven't found a place? Ok. You now have two final options. You might decide that university is not for you after all, and that you want to go and do something else. Or you are going to be thinking about going back to school or college to do a one or two A Level resits in an attempt to bump up your grades.
And if you are Abbey College Manchester has got the course for you. We offer a full range of A Level courses ranging from intensive one year retakes, to 18 month and full two year A Level programmes.