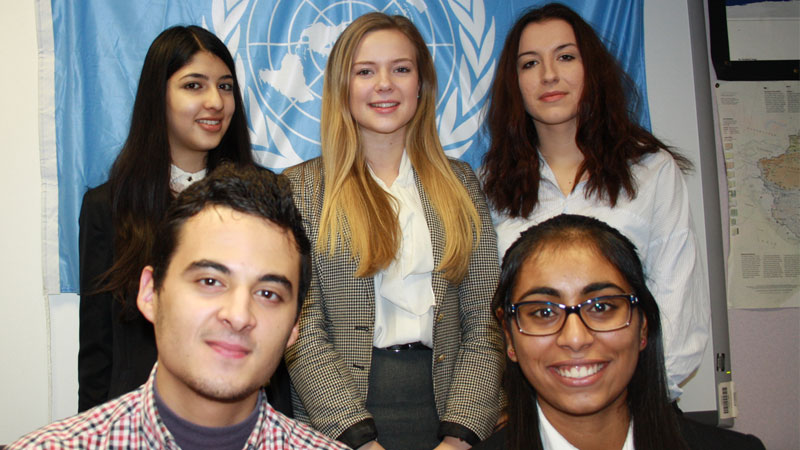 Talented debaters at Abbey College Manchester shone in the spotlight of a high-pressure UN summit recently, where students from five top Greater Manchester schools were locked in talks over the global issue of food security.
Teams from North West schools replicated the high-pressure environment of a UN General Assembly in the model United Nations event, hosted by leading city-centre independent school Abbey College Manchester and organised by the Geographical Association of Manchester.
During the event, at the Unitarian Chapel on Cross Street, each team of student 'diplomats' debated the global issue and concept of how to feed the global billions without damaging the planet. Students were asked to represent the views of 'their' country, reflecting that country's national interests rather than their own personal opinions on an issue.
The assembled delegates were locked in talks on the international epidemic of undernourished people, causes of hunger, family farming, and managing natural resources in a sustainable way.
The purpose of the popular annual debate was to develop students' leadership, research, team-work, public-speaking and communication skills as well confidence and awareness of world issues.
The challenge for students was to get as much as possible for their particular country in the negotiations and the eventual resolution.
Eight students from Abbey College Manchester took part in the event, split in to two teams representing China and Haiti.
Abbey College Manchester's Head of Geography and Environmental Studies, Mike Johnson, explained: "All the participants did extremely well and were all enthusiastically putting their well-thought out arguments across, and yet held their own when challenged.
"Taking part in a big event like this is a great way to engage the students in important, current, and ongoing global issues, while developing their communication and leadership skills. We are delighted that the Model UN summit has seen another successful year at Abbey College Manchester."