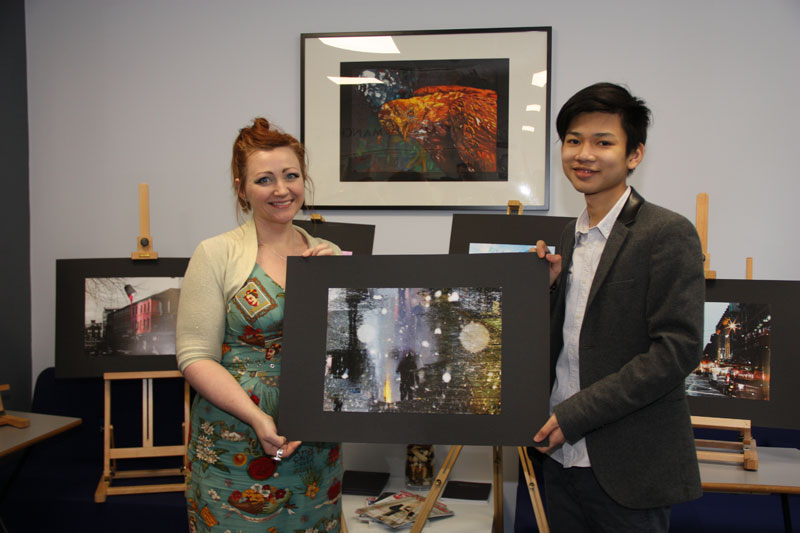 Promising Abbey College Manchester photographer William Haq filtered down the competition to win prominent positioning of his artwork in the college's brand new, contemporary reception area.
William beat stiff competition from many other students at the college who put on their creative hats to compete in the Art Challenge which was entitled "Here and Now".
The students were encouraged to use their art, photography, sculpture, or other media skills to explore the concept of this versatile topic.
The subject was deliberately left as an open title to allow for a range of interpretations and to let the students' imagination run free.
The proud pupil William took home gold with his photograph of a person's reflection in a puddle on a rainy day in Manchester City Centre caught the judges' eyes and secured him the title.
A judging panel decided the winning piece and the successful candidate will have his work showcased in the recently built, stunning reception area in the college for all the visitors and students to admire. William also received a £50 Arndale gift certificate. Two runners-up both received £25 Arndale gift certificates.
Biology, Chemistry, Physics, Photography, Geography, English Language and Maths student, William said: "I am so pleased to have won and very surprised. There was some tough competition and I am incredibly excited to have my work showcased in the new reception."
Head of Creative Arts, Art Claire Rigby ran the competition. She commented: "The students are very adept. William's piece was stunning and it will look great in the new reception."