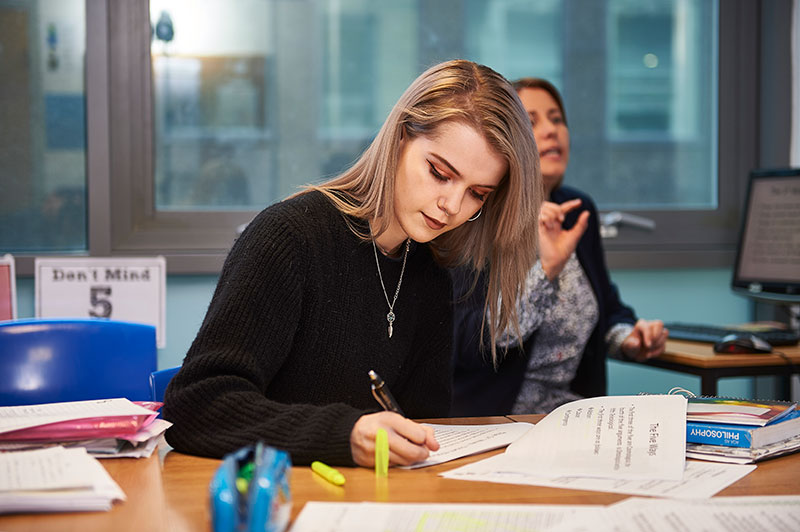 What is Clearing?
Clearing is a process that lets you apply to universities that still have open spaces on their courses. Clearing is for those who did not apply to any universities, have not received any offers, chosen to reject all their offers, or not attained the grades required for their offers.
When does Clearing begin?
Clearing begins properly on Thursday 17th August, A Level Results Day, and remains open until 23rd October. But if you have decided you want to enter Clearing before results day you can start doing research as soon as you like. Universities may publish information on spaces on their courses before results day, so if you've decided where you want to go you can begin your research much earlier.
How do I enter Clearing?
If you don't make either your firm or insurance offers and the universities don't accept you on a lower offer, you won't have to do anything. Log in to UCAS Track to find out your Clearing number.
Now Clearing really starts. Get on the phone and speak to as many universities as you like, see if they have any spaces available and if they will accept you. Your Clearing number will give admissions tutors the chance to see your full application and may ask you to apply. You can get as many verbal offers from as many universities as you like before you make your decision. If you are given an offer you will get a course code and an institution code from the university. You don't have to sign up straight away – if you want to speak to other universities you still can – but most offers last 48 hours.
Once you decided to accept an offer, go to UCAS Track, click on the "Add Clearing Choice" and enter the details.
It's VERY IMPORTANT to remember that you can only enter one choice. Although the UCAS Track system will let you add a course at any point, the university will not accept you unless it has agreed an offer personally with you. If you do add in a course before you have agreed it with a university the system locks you out and you will not be able to add any other choices until the university has removed your request, that can take days and you could end up missing out on another course.
If you have changed your mind about accepting your insurance offer, you can also enter Clearing. What you will need to do is contact your insurance offer and ask them to release you. In an ideal world you would have realised you don't want this place anymore and already set in motion the process to enable you to get out of the course. When you've been released your Clearing number will show on UCAS Track and you can start calling universities. Once you've been offered a place go to UCAS Track, click on the "Add Clearing Choice" and enter the details of your preffered course.
If you find yourself without any offers but applied through UCAS before the 30th June, you will have automatically been entered into Clearing, and your Clearing number will be available to you on UCAS Track from mid July. You may start calling around universities and when you've been offered a place follow the same process as before.
If you do not apply to university through UCAS before the 30th June or apply after, then you will only be going to university through Clearing. You will need to complete UCAS application as normal through the UCAS website – which include all the standard things like a personal statement and a reference. There is a slight difference from a standard application in that you will only be allowed to apply to 5 universities / courses. Your Clearing number will appear in mid-July once your application has been processed and you may start ringing around universities once you have your Clearing number, and when you receive an offer you like add it as a Clearing Choice on your UCAS Track page.
Some things to remember about Clearing
• You are not a failure if you have to go through Clearing. Plenty of people ditch their original offers and choose a new course or university through Clearing , and plenty of people who didn't do as well as they thought they would find great courses at brilliant universities through Clearing. Be positive. More than 64,000 students found their place at university in 2015 through Clearing. That's more than 10% of university starters.
• There is a wide range of courses available through Clearing, so even if you cannot find your first choice course, you are more than likely to find something you want to do.
• You do not have to wait for your Clearing Number to appear on UCAS Track before calling universities. They will not be able to formally offer you a place, but they can informally offer you a place and you can properly take it up once you have your Clearing Number.
• When contacting the university it should be YOU who does all the talking, all the negotiating. Not your parents. Before you call them up, make some notes about why you are interested in their university and courses, have your personal statement handy and be ready to sell yourself. Have a pen and paper handy and your UCAS number when you call. The universities will be busy the days after A-Level results day and it may be hard to get through DO NOT give up and send them an email, an email can taje days to reply to and you may miss out. Persevere with the phone.
• Remember you do not have to accept any offer immediately. You can speak to other universities and see if you can get any other, better, offers.
• LASTLY do not accept any old offer just to go to university this year, you can always have a gap year, travel, sit some retakes, work, and go next year.
Good luck!