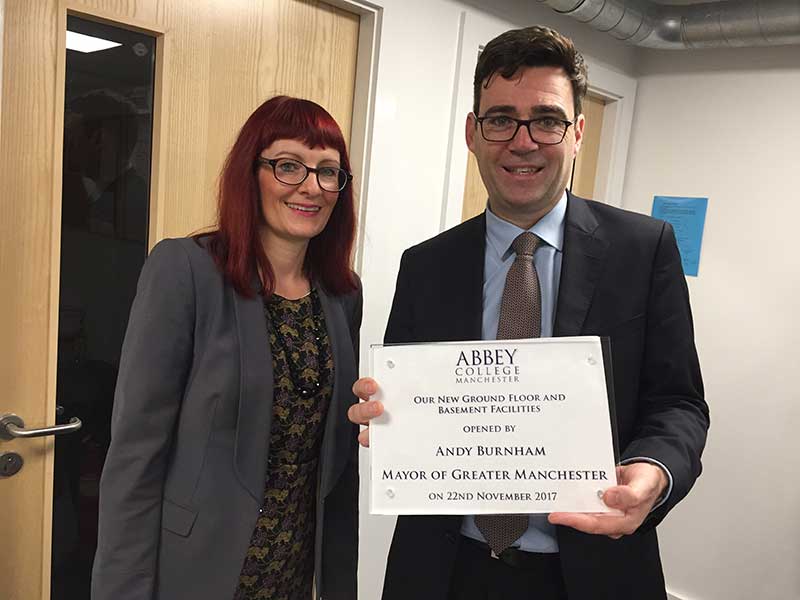 The Mayor of Greater Manchester, Andy Burnham, took time out from his busy schedule to open the new Abbey College Manchester basement and ground and first floor facilities on 22nd November.
He was welcomed to the college by a group of students on the ground floor before being taken on a tour of the new facilities. As part of this he had a question and answer session with our Year 13 students.
Mr Burnham then gave a presentation to our Year 12 students in which he talked about the history of Manchester and its significance as a city. It made everyone feel so proud to be part of it.
Following the presentation a cake was cut by Mr Burnham and the Principal of the college, and then two students presented him with an engraved paperweight small gift to commemorate his visit.
He remembered visiting the college a few years ago and was impressed with the way the college has moved on since then, and acknowledges us as a significant part of the city centre community.
All the students enjoyed the visit immensely and as usual behaved superbly throughout. They were each given a specially branded 'Abbey College Manchester' chocolate bar to mark the occasion.
The 'Friends of Abbey College' group also attended and enjoyed the occasion and as many of them used to work here they were impressed with the development of the college.