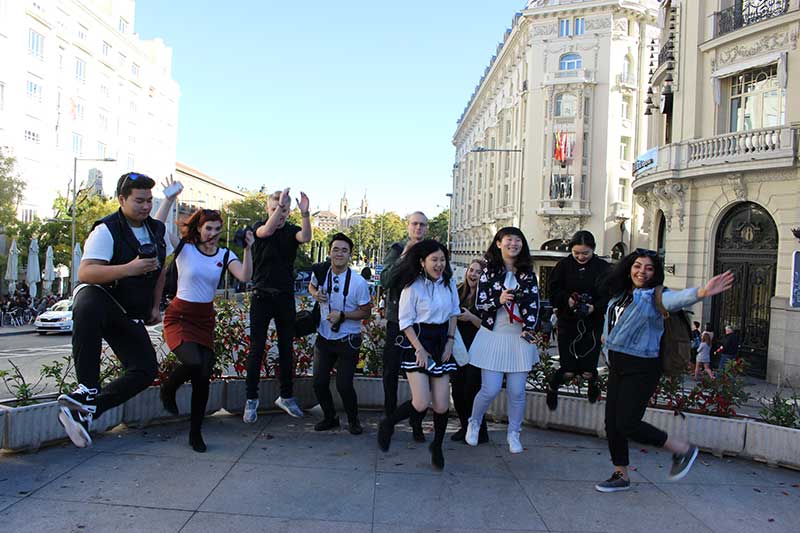 Abbey College Manchester Art and Photography students took a trip to Madrid for three days in November to enjoy the galleries, architecture and culture of this amazing city.
There were so many highlights of the trip. An old tobacco factory was visited where local artists exhibit their work. The walls inside and outside were covered in graffiti, which gave plenty of opportunities for taking photos, and a wander through the streets offered yet more chances to capture the atmosphere of a sunny day in this beautiful Spanish city.
The incredible view from the top of the Palacio de Cibeles Centrocentro was experienced, where students and staff sat in glorious weather, sipped refreshing drinks and chatted, feeling very lucky to be doing all this in November!
During one the evenings the students enjoyed a flamenco show, which was a really impressive display of the passion and intensity of the Spanish people.
A visit to Santiago Bernabeu satisfied football fans which allowed the students to sit in the dugout, see the changing rooms where their heroes prepare for the match, and enjoy the interactive tour. Students less interested in the football visited a local market to see a vast array of coins, banknotes and stamps, and to enjoy a few hours of souvenir shopping in the sun.
An evening meal of traditional tapas in a lovely restaurant in the centre of the city was a great way to end a busy day, and chat about what had been seen so far.
A visit to the Prado Museum to see one of the world's most important art collections on the last day completed a trip overflowing with extraordinary sights and experiences.
The students all had a different idea of their favourite moments, and they returned with wonderful memories of a really enjoyable trip.