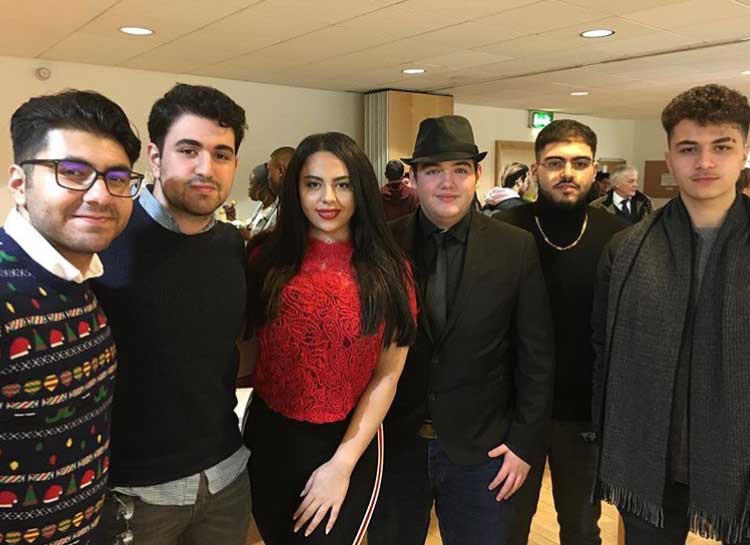 On Thursday 14th December the Abbey College Manchester community gathered once more for our annual Festive Evening. Held at the Unitarian Chapel on Cross Street, a short walk from the college, students and staff alike showcased their numerous talents. Students Alireza Malekian, Lara O'Donoghue, Youming Lu, Racha Kirouani, Helia Hafizi, Aryan Beheshtaein, Elza Eglite, Tong Yang, Ebuka Kenneth, Neil Hilbrig all performed, as well as a performance from college Principal Liz with Joy Dye and Brendan Chesterton. The Abbey Singers also performed a medley of songs.
The audience were treated to some real classics including 'To Make You Feel My Love' by Adele performed by Racha Kirouani and 'Hey There Delilah' by the Plain White T's performed by Lara O'Donoghue. It was a night filled with laughter and fun helping to strengthen the college community even more. Principal at the college Liz Elam also performed a musical medley with colleagues Joy Dye and Brendan Chesterton. She commented: "The Abbey College Manchester Festive Evening is always a wonderful evening. It is a great opportunity for the students to show one another and their parents their musical creativity and it is a fantastic way to raise money for a good cause." A special mention for Rachel Lasham, Head of Lower School, for organising the event and a huge thank you and well done to all those who performed.
The event helped raise £200 for Mustard Tree.