Introduction
The lockdown in March has changed the way that we will be running the college from September and there are elements that are likely to remain different when we eventually reach normality, or the 'new normal'.
This information is designed to outline how the college will operate and answer some important questions that you are likely to have. The key aims of our re-opening strategy are two fold:
To ensure a safe college environment for students and staff
To deliver a high-quality education
The main changes include modifications to:
The structure of the college day
Circulation around the building
Delivery of lessons

The structure of the college day
The times of the college day have been revised to allow students to travel into college more safely and give flexibility for travel.
Morning lessons will start later at 9.40am and finish at 1.20pm.
The usual five lessons will be taught each morning face to face.
The lunch break will be one hour and 20 minutes long which will allow students and staff to travel home ready to start afternoon lessons at 2.40pm
The four afternoon lessons will be taught as live remote lessons. This will follow the approach that we have taken during lockdown.
As we have increased contact time on GCSE and A-level courses to eight lessons per week (instead of seven) we are helping to compensate for any disadvantage caused by lockdown to students in Year 10, 11 or 12.
A contact time of five and a half hours per subject is considerably higher than the three and a half to four hours offered in most schools and colleges.
Riverside students will be bussed into college and home from college each day and provided with a packed lunch
Students living in other situations may arrive for the start of their first lesson and leave when their lessons finish
Once in the building students may not leave until the end of their last morning lesson so should bring food/snacks with them if required
This is to minimise circulation and allow for social distancing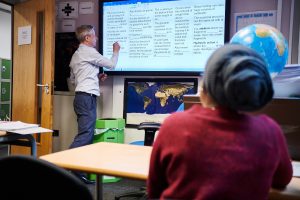 Circulation around the building
On arrival students will queue at distance intervals outside the college building to enter via the student entrance.
Staff will be at the entrance to meet students and manage an efficient entry to the building
A thermal imaging camera will be installed to ensure that any high temperatures can be identified
The college nurse will be available to check any student who may be displaying symptoms
Students require their gate pass
PPE can be disposed of in the special bin provided at the entrance or can be worn in the building
Any late arrivals will be noted but the punctuality rule will not be operational
On arrival in the college students must proceed up the stairs to their first class
On arrival in the class they can wipe their desk and take their place; the desks will be laid out at 1metre intervals
At the end of the class students will be released from lessons in a controlled manner and those going to the floors above will use the front stairs and those going down will use the back stairs. Those on the same floor will be released last and move to the adjacent room.
If a student wishes to study in the basement they will go down to the basement via the back stairs and be guided back to the front or back stairs depending on their next lesson or if they were to be leaving the college building
Delivery of lessons
Morning lessons will be delivered face to face
Practical activities will be undertaken where possible and the sharing of equipment is not required
Any student unable to attend face to face will be able to join remotely
Afternoon lessons will be delivered remotely with a view to all lessons being face to face by January
Additional time has been allocated to all GCSE and A-level courses to supplement the time available for teaching and learning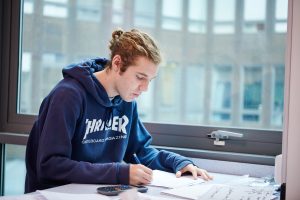 Quarantine
To minimise the possibility of a case in the college all students (and staff) arriving from abroad will be in quarantine for 14 days
As the first arrival date to boarding is 1st September lessons will commence face to face on 14th September – all academic induction will be undertaken online (remotely) from 7th to 11th September
This will be an inclusive process because all students whether in quarantine in Riverside/homestay, at the family home or at home in their home country can undertake the induction and not miss any teaching time
We appreciate that some families and staff will be travelling abroad this summer and this quarantine approach allows time for everyone to have undertaken quarantine before starting the face to face lessons on 14th September.
We appreciate too that flights may be more limited for returning students and we do not want anyone to be disadvantaged by needing to work remotely for a couple of weeks.
All students require access to a laptop and the internet as they have done during the time since we went into lockdown in March.
What happens if there is a case or suspected case of Covid-19 in the college building or boarding?
The student would be isolated immediately and staff wearing appropriate PPE would check the student and phone 111
The isolation flat at Riverside would be used to isolate any student displaying symptoms
For students living with their family they would need to isolate at home as per government advice
The college Senior Team would take advice from Public Health England about closure and deep cleaning
Covid-19 testing would be undertaken as appropriate
The nature of our teaching provision and structure means that if the college needed to close due to a case in the college or a local outbreak we are fully equipped to continue delivery as normal albeit in a remote way – a way that all the teachers are able to revert to at any point if required. This would mean no disruption to learning.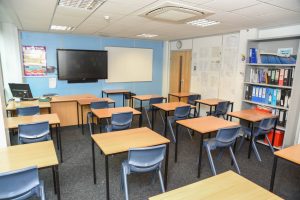 Frequently Asked Questions
Q: When will the college return to the normal hours?
A: This will depend on the ease of travel to and from college as our plan aims to avoid rush hours. As the timetable structure itself will remain the same it can be moved back to the normal 9am start and 4.30pm finish at the time that it is appropriate so to do.
Q: When will the college deliver all lessons face to face
A: Again, this will depend on the ease of travel and advice form the DfE, PHE and BSA. By January we hope to have afternoon lessons face to face. In this case we would revert to the normal times of the college day or shorten the lunch hour to retain the 9.40am start.
Q: How do I know the college is clean and safe?
A: Increased regularity of cleaning and bins for disposal of PPE along with wipes for desks and keyboards will be standard practice and wall mounted hand gels at the entrance will be supplemented with dispensers at both ends of each corridor. The same will be in place in Riverside House. Student temperatures will be checked before leaving the boarding.
Q: Will my Son/daughter be in a bubble?
A: Because all our students take options and do not have the same timetables, we cannot have class bubbles so all classrooms will have social distancing layouts. Riverside students will be in flat cluster bubbles in Riverside House and can mix with their flat mates whilst in Riverside House
Q: Why are you running remote lessons in the afternoon?
A: The decision to deliver afternoon lessons remotely has not been taken lightly and has been influenced by the following factors:
We have a significantly longer college day than many schools and the social distancing restrictions would be much more difficult to implement effectively given the layout of our building and the city centre location e.g. over lunchtime
We have developed an expertise in the delivery of remote lessons and have noticed that many of our students are thriving on this approach; we think the mixed economy will work well for these students
Many of our students will need to quarantine and we have some staff and students in vulnerable categories so remote lessons will be of benefit
Universities are operating many of their courses remotely from September and this is likely to be a feature of the future – if our students are trained in doing this effectively, they will be well equipped to cope at university
Remote lessons will be recorded and uploaded in many instances allowing students to re-visit the content and review more frequently
International students who are unable to arrive on time will be able to access remote lessons in the morning as well
All our remote lessons are live and retain the same small numbers
Q: What happens if I am on the football programme?
A: You will have football training in a modified format every afternoon and this will be in line with DfE and Football Association guidelines
Q: What about enrichment?
A: We will be running remote enrichment activities for you to choose from. You may be able to do more than one activity e.g. a film club and a debating club. In Riverside House activities will be organised for inter-flat competitions etc.