This Year A level results day is on Thursday 18th August and it is back to normal with students receiving results for the exams they sat in May and June, not Centre assessed or Teacher assessed grades that were rewarded for the last two years.
Some students will be full of excitement and others may be feeling a little bit nervous, as they find out what is next in store for them. It is an important day, regardless of what you receive, or what your plans are, be proud of what you have achieved and Don't panic! Abbey College Manchester's handy Guide to A-Level Results Day is here to help you get through it in one piece.
What you will need:
Your School / College will advise you how and when you are going to receive your results.  Many students now receive their grades via an e-mail.  But you need to ensure you are available on that day as you may need to talk to your school, UCAS or Univeristies.  They will only talk to you.  Your parents cannot call on your behalf.
You may also find that your UCAS track has updated your University Offers before you receive your results, but your actual results will not appear on UCAS Track.  You need to get these from your school / college.
Whether you go into school in person or received an e-mail there is some information you should have to hand:
Your mobile phone. Fully charged. You will of course want to call your family when you've received your results. You might need to call a university or UCAS as well.
A notepad and pen. It is a little bit old school, but you might need to jot down some names and contact details.
Your UCAS Track Log In details.
The contact details for your firm and insurance offer universities. Make sure you have their telephone numbers and email addresses.
If you think you might have to go through Clearing, Download the Clearing app from the iOS or Google Play store
What should I do before results day?
It's easy to put results day to the back of mind and do nothing until the actual day, but it is always best to be prepared for all outcomes. You don't want to wake up on A-Level results day, and not understand where you are going or what any of your results and offers mean.
Clearing opens on 5 July 2022 and you will be able to view any current vacancies on the UCAS website from 5 July onwards. Vacancies will be listed then and updated regularly until mid-September, but some will not be published until the morning of A-level results day.
Do your research
think about the courses you would like to study and any alternatives.
check the location and course content – consider what you are looking for and what you are prepared to be flexible about
take a virtual tour of the universities you're interested in.
universities may be doing Clearing webinars which will give you information on how they are running Clearing this year
Be prepared for Clearing
collect the information you will need on results day
list of courses/universities you are interested with clearing phone numbers and opening times
your grades – A'levels, BTEC, GCSEs etc
a copy of your personal statement
your notes on the course and university and any answers you've planned to questions they might ask
any questions you want to ask them
if you've called the university before, the name and details of whoever you've spoken to.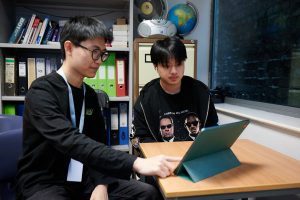 What happens when…
Your grades are great and meet your firm offer
Congratulations! All that hard work and sacrifice have paid off. Call your friends and family and share your good news with them. You shouldn't have to do anything else. Your status on UCAS Track should be automatically updated. Don't panic if it is not, but check it throughout the day. If nothing has happened by Friday morning, contact your university.
Your grades are much better than you expected
Amazing! Once you've settled down a bit you have an important decision to make. You could do one of two things. Firstly, you could just go ahead and accept your place on your first choice university.
If you wish to try to gain a place at a better University – UCAS have confirmed that there will be no Adjustment this year.  But, if your results are better than expected and you now want to change universities, from 5 July 2022, if you are holding a firm unconditional place, you can release yourself into Clearing, using the 'decline your place' button in your application.
Only use this button if you no longer wish to take up your place at your firm choice, and you have spoken to your university or college and/or an adviser at your school/centre.
Think very carefully about if you wish to decline your first choice offer.  Many courses are over subscribed this year and there are no guarantees that you will be able to secure a better offer.
Your grades are not quite good as expected and you narrowly miss your firm offer
Firstly, don't panic, it's not all over. If you very narrowly missed your firm offer there is a good chance your first choice university will accept you. Log in to UCAS Track and check your status. If it says "unconditional" then you made it. If it says "conditional" or there is no status change, give them a call straight away, give them your details and see if they will offer you a place anyway. You might be required to sell yourself a little bit, so be calm and polite and show them how lucky they would be to have you.
Your grades are not good enough for your firm offer but meet your insurance offer
Well done! You will be going to university. Check your status in UCAS Track as you would if you made your firm offer, and if it says "unconditional" you are in. Don't panic if it hasn't updated immediately, check back every now and again and if it hasn't updated by Friday morning, give them a call.
Your grades are not good enough to meet your insurance offer
If this happens, it is important not to freak out and panic, you still have several avenues open to you. Check UCAS Track, your insurance university may have accepted you anyway. You can give them a call and find out. If they choose not to offer you a place, it's time to think about going in to Clearing.
Clearing and Clearing Plus
We've mentioned Clearing a couple of times, but what is it? Clearing is when you can apply to universities who still have some open spaces on some of their courses. You are free to approach any university that still has some spaces and request they take you.
Before you add a Clearing choice in your application, you need to call the university and give them your Clearing number (you can find this in your application), and Personal ID, so they can look it up.
Ask if they'd accept you – they might reconsider you (maybe for the same course) even if you applied to them earlier in the year.
Get informal offers over the phone – maybe from a variety of universities and colleges – then decide which one you want to accept.
You can only add a Clearing choice once you have permission from the university or college.
You can access clearing via the UCAS website or by downloading their app.
You may also wish to consider Clearing Plus to help identify suitable and relevant courses.  Please click here for further information.
Key advice
It is important that you yourself do all the calling and negotiating. Do not let your parents or anyone else speak on your behalf. This is down to you and universities will look on you more favourably if you do all the talking.
You might be nervous but the people you will be talking to will be trained and will understand the situation you are in.
Remember to stay positive and focus on your strengths, rather than talking about things that went wrong or you didn't do well on.
Make notes as so you will remember what they are telling you. If you're making a lot of phone calls, it will be easy to forget important information. This will also help keep you focused if you're feeling anxious.
Remember to ask questions about the course and the university – this will help to show you are motivated and will also help you decide whether this is the right course/university for you.
If the university gives you a verbal offer ask for an  email to  confirm the offer and how long it will last.
Do not simply accept the first offer you get unless you are sure it is the right choice for you, keep calling universities and getting more offers before deciding which one to add as your Clearing choice on UCAS Hub.
If you are not successful at first keep going. A university that wasn't interested in you at first might have free places a few days later. If you end up on a reserve list, keep in touch with the university about it so they know you're still interested.
And if none of that works…
It's ok, you still have options.
If you think you could do better, you might like to think about retaking one or more of you're A-levels. Abbey College Manchester offer a number of one year intensive A-level retakes. Click here to find out more.
Good Luck!