A trio of talented footballers from Abbey College Manchester have secured an invaluable opportunity, receiving a much-coveted invitation to train with semi-professional clubs over the summer.
The three students, who are currently studying on the Academic Studies with Football Training programme in association with International House Manchester (IHM), impressed the local teams and are now advancing their skills further with first-class coaching in a club environment.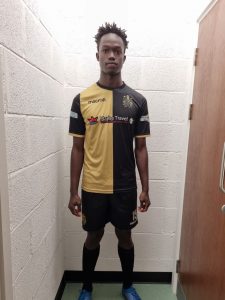 One gifted student, Andrew (17), has been invited to pre-season training at Marine Football Club, following an enthusiastic recommendation to the club from one of the IHM coaches, David Raven. David, who also plays for the step 8 side and famously represented them in the FA cup last season live on the BBC, has been highly-impressed with Andrew's performance on the programme, securing him the space in pre-season training.
Andrew is also under a trial period with St Helens Town AFC, after he left a positive impression during an initial trial day at the start of June.
Passionate players Said (16) and Khon (16), have also thoroughly impressed all of the academy coaches and have successfully secured a number of
opportunities throughout their time on the programme. This season, the talented two caught the eye of the academy's new goalkeeping coach Matthew Gould, who is also a semi-professional player and coach at Altrincham FC. Matthew invited both players to train at the club, with a view to joining the youth side next season.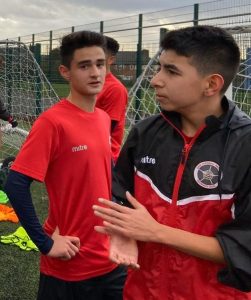 The two boys, who are both international students from Uzbekistan staying with a host family here in the UK, have been friends all of their lives, and are continuing to play together as they push on with their football careers.
Mick Brennan of International House Manchester commented on Andrew's success: "This step to training with Marine FC is a great opportunity for Andrew. He's been showing what he can do all season and has been at the forefront of every game with IHM. Marine FC is a great set up and to be recommended by the IHM coaches is a strong endorsement, especially as David is one of the Marine players. This will really give him a taste of next level football."
On Said and Khon's accomplishments, Mick added: "Said and Khon have really impressed over their time so far on the programme and have caught the eye of clubs but, never really got that break. Being able to go and train with a semi-professional club will give them that next level opportunity to see where they fit in the football pyramid and hopefully, give them their first step in a football career."
Abbey College Manchester Principal, Liz Elam, commented: "We are very proud of Andrew, Said and Kohn for securing these invaluable opportunities and look forward to hearing how they are progressing over the summer. It is delightful to witness students thriving on our innovative Academic Studies with Football Training programme, a course unique to our college in association with International House Manchester, which gives students the opportunity to gain qualifications for entry to university alongside intensive football training which would lead to playing professional or semi-professional football in the future."
Two additional students from the college, Kieran and Daniel, also attended a trial at St Helens and have been invited back to train pre-season following a short break back at home.
To learn more about the Academic Studies with Football Programme please click here.