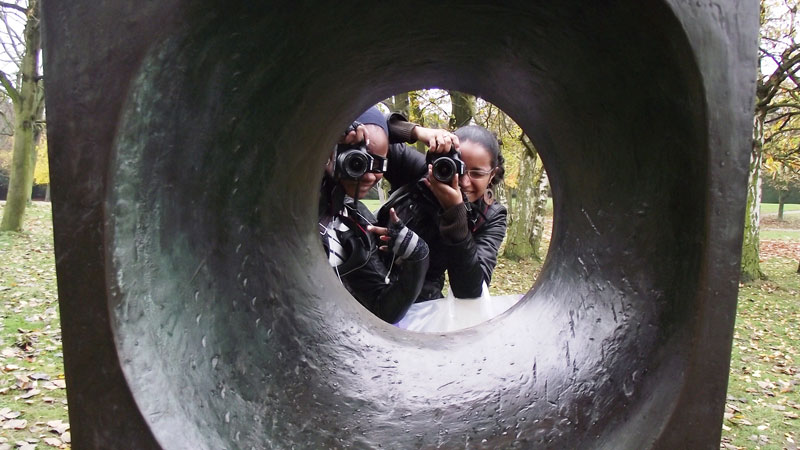 Abbey College Manchester Art and Photography students recently took a trip to Wakefield in North Yorkshire to visit the Yorkshire Sculpture Park. They were there to photograph and sketch the works of art on display, a huge selection of modern and contemporary sculptures set in the grounds of Bretton Hall. The weather was kind: in spite of dark skies there was no rain, and students set off across the fields in search of subjects for their work, excited by the prospect of the open air experience of these amazing artworks. Everyone enjoyed being able to get really close to the work – there are no barriers, and all were free to touch the sculptures and explore the surfaces of these great works of art. There was a real sense of freedom which led to some great experimentation with the cameras.
In the afternoon, students went to the vast underground gallery to view the work of Jaume Plensa. Several dimly lit rooms containing illuminated figures and giant alabaster heads gave challenging conditions for the photographers. When asked to describe their experience of the artist's work, students commented that they found the giant heads 'peaceful', 'calming' and 'mysterious'. Art students made sketches of the work, and photographers searched for unique ways to portray their experience of the remarkable sculptures and installations. This part of the day was a real highlight, leaving all of us really impressed and inspired.
Students were able to bring a wealth of material back to college to build their portfolios, and to use as a foundation for further work. Many commented that they wished they had more time to spend in the park as it was impossible to see everything in one day. The unanimous verdict was that the visit had been an amazing experience, leaving a strong impression on all who took part.