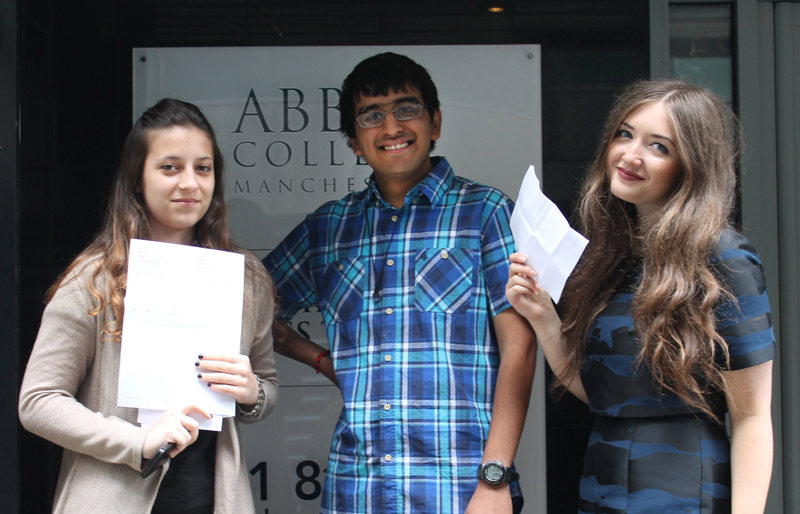 It's almost time, A Level Results Day is nearly here. Nervous? That's fine, it's normal to be nervous. You're not alone. No matter how much work you put in, how much revision you did or how well you think you did in your exams, you're bound to be apprehensive.
It's very important to be prepared on A Level Results Day. Emotions run high, you might do better than you anticipated, you might do worse. You might need to go through Clearing or Adjustment, you may even need to think about resits. Regardless of what happens, it pays to be prepared for all eventualities. To help you, we here at Abbey College Manchester have assembled a handy A Level Results Day survival guide to help you through what is bound to be a very emotional day.
What you need
UCAS Track Login Details
UCAS Track is live at 8am. You will need them to check your university confirmation.
University Correspondence
You may need to contact your first or second choice university for some reason. It'd be better if you had their contact details handy rather than have to search for them.
The Daily Telegraph
The Daily Telegraph prints the official list of available clearing listing for the year.
Mobile Phone
Sounds silly and obvious, but you will definitely need it. Do well and you will want to contact family and friends to let them know how you got on. Do not so well and you may need to ring around a few institutions to sort yourself out. Charge it fully the night before and you could even take your charger with you.
Notepad and Pen
A little bit old school, but you may need to make some notes or take down some phone numbers.
A Bottle of Water
It's going to be an emotional day, stay hydrated.
What to do when you get your results
Your grades meet the requirements for your first choice university
Amazing. Congratulations. All that hard work has paid off. Call your family and friends and let them know how you've got on. They will be thinking about you. Share your success. Your results will have been forwarded to your university and soon appear in Track. Don't be alarmed if you don't see your results immediately, they can take a while to show up. If they're not online the following day, call them up. But don't worry, your results will not be affected.
Your university will contact you within the next few days with instructions on what to do next.
Your grades exceed the requirements for your first choice university
Incredible. You should be very pleased with yourself. Once you've calmed down and stopped telling everyone how fabulous you are, you have very important decision to think about. You could just accept your first choice offer at the university of your choice, OR, if you fancy it, you could apply to a course at a better university. This is known as Adjustment. You may register on UCAS Track for Adjustment, you then have five days to negotiate your position with a different university.
It is important to note that Adjustment is completely down to you, and once you start it the onus is on you to do all the work. You will need to contact the university and negotiate with them. If you choose Adjustment and you don't find anything else, it is possible to go back to your original choice.
To find out more about Adjustment, have a look at the UCAS website here.
Your grades do not quite meet the requirement of your first offer
Ok, first of all it is important not to panic or get upset, you may still be able to get onto the course you want at your first choice university. Call up your first choice university and speak to them, they might be willing to accept you on your first choice course, or offer you a place on a similar course. If they don't, all is not lost, this is what your insurance offer is for.
Your grades are not good enough for your first choice offer, but they meet requirement for your insurance offer
Well done. All you need to do now is check your Track status and wait for insurance university to contact you with the necessary information. If you want to, contact them to confirm your offer.
Your grades are not good enough for your first choice or insurance offer
Again there is no reason to panic. You still have lots of options.
Before you do anything though, call up your insurance university, speak to them and see if the will offer you a place on your course, or on a similar one. Don't panic if they don't, you can always go through Clearing.
If you don't make either your first choice or insurance offers, you are eligible for Clearing. This means you are entitled to contact any university that still have places left and ask them if they'd offer you a place on one of their courses. For more details on Clearing on A Level Results Day, check out the UCAS website here.
Another option you have is Resits. A lot of students who have narrowly missed their grade requirements, or feel they did not perform as well as they could have for whatever reason, chose to do Resits. Abbey College Manchester off a number of One Year Intensive Retake A Levels, check them out here.
If you still want to go to university, but found A Levels to be a bit to academic and exams too stressful, you might like to think about a BTEC qualification instead. Have a look at the BTEC course offered by Abbey College Manchester here.
Interested? Visit us at our website or call us on 0161 817 2700, and one of our friendly members of staff will help you.
Good luck!