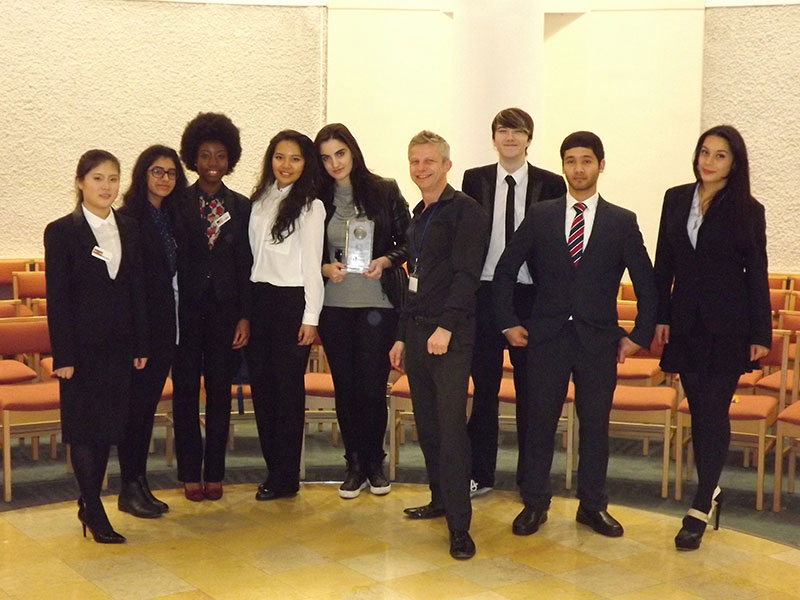 Talented debaters at Abbey College Manchester shone in the spotlight of a high-pressure UN summit recently, where students from seven top Greater Manchester state and independent schools were locked in talks over the global issue of the refugee crisis.
The teams replicated the high-pressure environment of a UN General Assembly in the model United Nations event organised by the Geographical Association of Manchester.
Abbey College Manchester had two teams, one representing the USA while the other spoke on behalf of Ethiopia. Each country had to outline its policy and opening position regarding the Refugee Crisis and then negotiations were undertaken between the countries. Deals were struck and a final resolution was voted on and then passed.
The annual popular debate is designed to further the student's understanding of different cultures, consider different texts from other countries and traditions, practice their speaking, listening, interaction and group discussion skills as well as developing their research and debating abilities.
The main challenge was to demonstrate an understanding of the current Refugee Crisis and to successfully represent the views and national interests of their assigned country without letting their own personal opinions affect the argument.
The college's USA team won the debating trophy, which was awarded on the realism of the role play, strength of argument, organisation of information, research, public speaking ability and teamwork. Each team member got a £15 prize.
Abbey College Manchester's Head of Geography and Environmental Studies, Mike Johnson, said: "All the students were incredibly enthusiastic and put across well-thought arguments to the other contestants and held their own when challenged.
"Taking part in a big event like this is a great way to engage the students in important, current, and ongoing global issues, while developing their communication and leadership skills. We are delighted that the Model UN summit has seen another successful year at Abbey College Manchester."