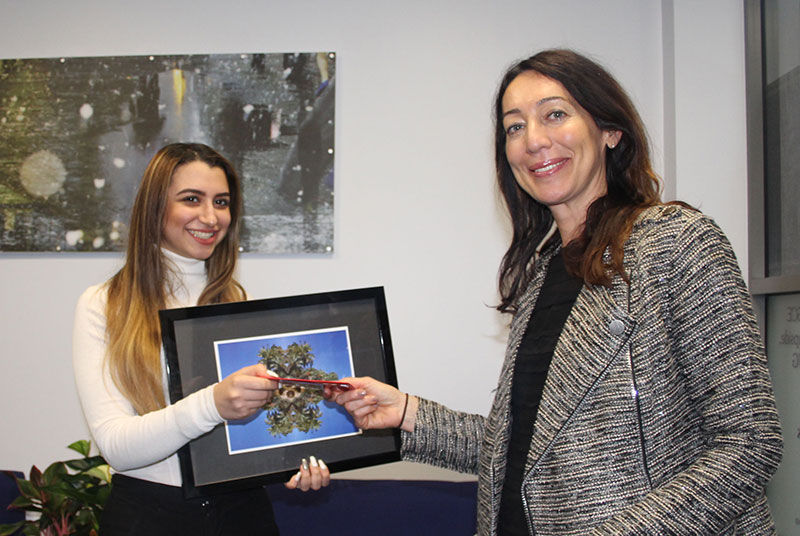 Saina Najati, GCSE student and promising photographer has been awarded for her talents in a recent art competition. Abbey College Manchester students were tasked with submitting one image that they captured during their recent trip to Barcelona.
Students from the Art and Photography department were given the exciting opportunity to visit the inspiring Spanish city well known for its architecture and art. The budding creatives developed sketches and photography to preserve the memory of the artwork seen and places visited; these pieces will then be incorporated into the student's portfolios.
The three day visit allowed the students to absorb the spectacular sights of Gaudi's unfinished masterpiece, the Sagrada Familia, as well as Parc Guell and the Picasso Museum. The students also had time to enjoy the atmosphere of the bustling central walkway in the heart of the city centre, Las Ramblas. In addition, their inspirational visit to the modern art gallery, Museu Nacional d'Art Catalunya, enabled ideas to be generated for projects back at college.
A variety of highly competitive submissions were captured in Barcelona but sixteen year old Saina excelled to first place with her incredible shot. The Manchester Road, Bury resident's beautiful piece will be displayed in the college's new ground floor reception area and a £30 Arndale Stores gift voucher was awarded for a tremendous effort.
The competition was judged by local independent photographer, Rhona Delany-Willis. Speaking of the winner she commented: "This student communicates the idea of warm weather and the exotic look of Barcelona, producing a really pleasing, complex, mirrored image."
Saina said: "The trip was hugely inspirational and we were lucky to be able to see famous landmarks and the incredible artists work. I am thrilled and proud that my image won, it turned out exactly as I envisioned and really encapsulates my experience of the beautiful city."